An Essential Tool for Engaging Seniors Learners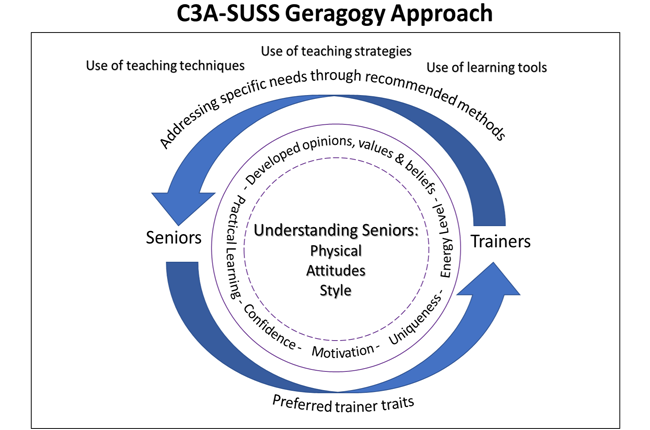 Senior learners have distinct characteristics as compared to other segments of population and as such, their learning needs may also differ. It is therefore important for trainers and practitioners to be mindful of these distinct characteristics and learning needs. These needs point towards the necessity of "geragogy", which refers to the theory proposing that instructional practices are more effective when designed to address the distinctive physical, psychological, and social realities of senior learners.
This set of Geragogy Guidelines is developed by Council for Third Age (C3A) and Singapore University of Social Sciences (SUSS) with the aim to enhance the learning experience for senior learners and elevate the standard for senior learning.
View the video on Geragogy Guidelines
Who Should Adopt the Geragogy Guidelines
- Trainers and organisations who are involved in senior learning.
Understanding the Geragogy Guidelines
To facilitate a deeper understanding on the guidelines and its application, C3A welcomes interested parties to join our specially curated 2-hour workshop "Introduction to Geragogy Guidelines". Hosted with the support of our collaborative partners, our workshop provides an overview of the Geragogy Guidelines, highlighting key principles and best practices. With these guidelines, they would serve to help enhance and allow learning processes to be more inclusive for learners of all ages, which will in turn build and foster a more conducive learning environment.
For further enquiries, please contact nsa@c3a.org.sg.